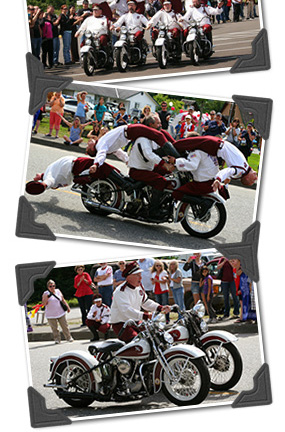 Saturday, August 29, 2015
Pacific Northwest H.O.G. Rally
Portland International Raceway
1940 N Victory Blvd, Portland, OR 97217

COSSACK SHOWTIMES:
5:00pm


Map / Directions
www.pacificnorthwesthogrally.com
Admission: Registration required


Calling all HOG's! The Pacific Northwest HOG Rally will be August 27, 28, and 29, 2015 this year! This tri-state rally is centered in the beautiful Portland metro area.

The Rally site will be held at the Portland International Raceway (PIR), which affords room for an outdoor theater, vendors, many of Portland's famous Food Carts, plenty of parking, dry tent camping, beer garden, and room left over for motorcycle games. There will also be a performance by the Seattle Cossacks stunt riding team. In addition, there are plenty of opportunities to enjoy everything the countryside around Portland has to offer, from guided and self-guided rides, wine and chocolate tours and jet boat rides. And as the sun begins to fade away in the western sky there will be DJs and bands for your evening entertainment.

This is a party you do not want to miss!

The Washington state HOG Rally along with the Idaho State HOG Rally and the Oregon State HOG Rally have combined to become the Pacific Northwest HOG Rally.

Join the excitement as Harley-Davidson riders travel to the Pacific Northwest for the Harley Davidson tri-state H.O.G.® rally. Three days filled with great rides, great people, and, most of all, great riders looking for fun.

There will be Music, Vendors, Activities, Multiple choices in Lodging, Restaurants and more!