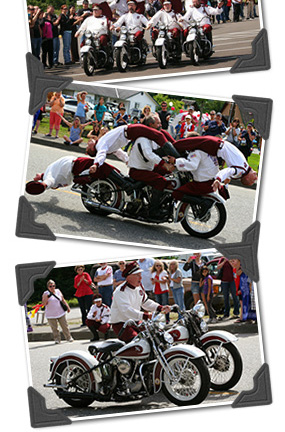 Sunday, September 18, 2016

Puget Sound Ride for Kids
www.facebook.com
www.rideforkids.org

COSSACK SHOWTIMES:
TBA




LOCATION:
Remlinger Farms
32610 NE 32nd St.
Carnation, WA 98014
Map / Directions


REGISTRATION: 8 a.m. to 9:30 a.m.

KICKSTANDS UP: 10 a.m., Rain or shine!

Enjoy a fun ride, food and entertainment!

• Cheer our Stars, local children fighting brain tumors
• Fundraise to earn incentives like T-shirts, jackets and more
• Get a chance to win a new Honda CB300F and other great prizes
• Connect with other enthusiasts for a great cause

Come join us with any make or model of street legal motorcycle, or just enjoy the day with family and friends!

By raising funds for the Pediatric Brain Tumor Foundation, you'll give kids battling one of the deadliest forms of childhood cancer a brighter future.

Ride for Kids is the longest-running, most successful motorcycle charity event in the nation. Since 1984, motorcyclists have raised funds to help children with brain tumors, which are the top cause of cancer death in children.

The Pediatric Brain Tumor Foundation was created in 1991 by the founders of Ride for Kids, and is now the leading nonprofit funding research into childhood brain tumors. Our events also fund free educational resources, college scholarships for brain tumor survivors and emergency financial aid for families.

American Honda is the presenting sponsor of Ride for Kids. Other national supporters include GEICO and Cycle World magazine.

We invite you to ride with us to cure the kids!