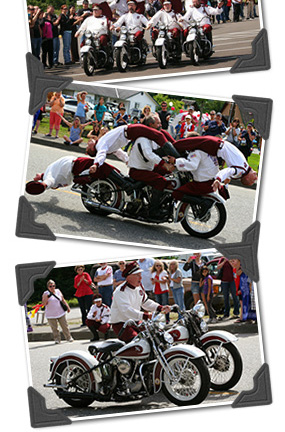 Saturday, August 22, 2015
Vintage Motorcycle Festival
America's Car Museum
2702 East D Street, Tacoma, WA 98421



Map / Directions
www.americascarmuseum.org
Admission: $20 •
Parking additional


More than 2,500 classic motorcycle enthusiasts will gather on America's Car Museum's Haub Family Field for this unique event featuring hundreds of vintage motorcycles and scooters ranging from 1910 to 1990, including rare Triumphs, Ducatis, BMWs and more. Virtually every brand in the history of motorcycling will be represented from owners across the U.S. and Canada.

A used bike corral, food trucks, free seminars, and vendor booths, plus restoration and touring services make this any motorcycle enthusiast's dream come true. The festival is open from 10 am to 4 pm on Saturday and is followed on Sunday morning by a motorcycle ride that leaves from the Anderson Plaza to enjoy the scenic back roads and rolling foothills between Tacoma and Mt. Rainier.

Enter to win a 2015 Indian Chief Vintage motorcycle! Raffle tickets are now available for purchase at the Museum. Tickets are one for $20 or six for $100 and the winner will be drawn on August 22 at the MEET.